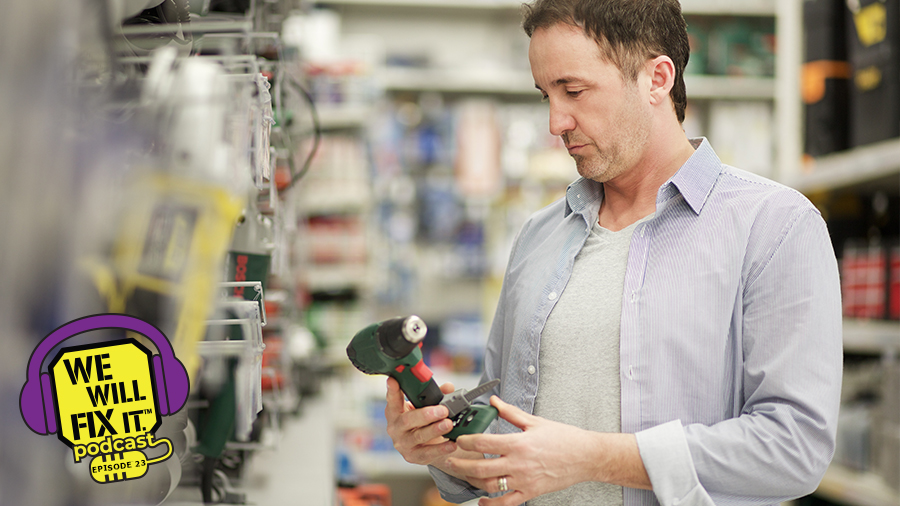 Podcast: Choose your drill wisely!
07 Apr
It feels like a lifetime ago that James recorded our latest podcast with Colin. We had only just started to see the signs of what was to become a huge life change for most of us who are now working and schooling from home. But if you are looking for a little bit of distraction from what is going on across the world, we've got you covered with another episode of maintenance madness with the We Will Fix It podcast.
Perhaps with all the extra time at home, you are thinking of tackling all those little jobs around the house? Well, this month the guys talk about all things Power Drills.
So, what kind of drill do you need?
Colin says it all starts with knowing what you are mostly going to use it for. Drilling or screwing (you may be surprised to learn that most people use their drills for screwing, not actually drilling).This will help you determine what features you really need.   
Do I really need Hammer action? Cordless or with a cord?  How much battery life? How many batteries?
As always, Colin is full of great tips and tricks from his years working in the industry and his own DIY experiences.  We learn that Colin's drill is over 12 years old! Make the right choice now, and you may not need to invest in anything else.
Tune in by hitting play below or searching for Podaholiks in Spotify.
Got maintenance questions or ideas you'd like to be covered on a future podcast. We'd love to hear from you, simply add your comments below or send us an email.