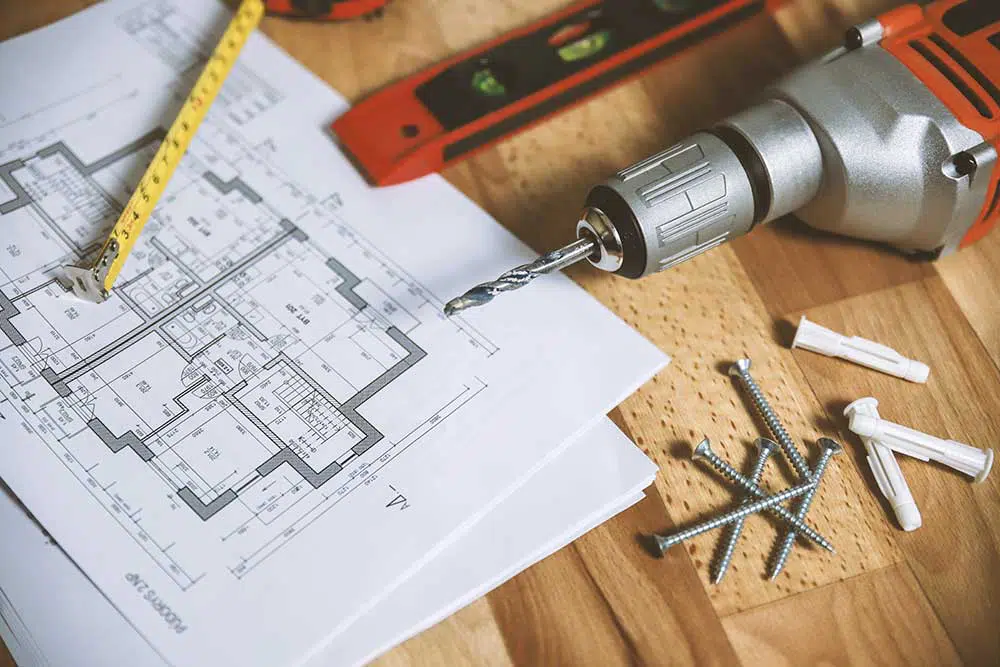 HOW TO CHOOSE A DRILL – YOUR ULTIMATE GUIDE
10 Mar
Selecting the right drill is no easy task. Have you been called to complete DIY tasks in the home solo and faced vast and confusing options at the hardware store?
Know this before buying a drill
Let this be your ultimate drill buying guide – in this article, we decode the benefits of cordless and corded drills, recommend models by job difficulty and list brands and prices. Check it out:
Corded Drills – select for optimum power
Skill level
Model recommendations
Specifications
We Will Fix It recommendations
Guide price

BASIC jobs. Assembling simple furniture and decking, drilling plasterboard, wood (35 mm), steel (13 mm) and concrete (15 mm)

Select a drill with a gearbox & hammer action that is suitable for light, repeated domestic use. This will also work effectively with smaller masonry drill bits for putting up pictures/ curtains etc.
Spec 500- 700 watts
2100 rpm
13mm keyless chuck
70 -140 Nm torque
18 volts
A basic corded hammer drill penetrates heavy-duty materials such as concrete, stone, brick and tile. This type of drill can still be used for drilling the odd hole into a wall, however they deliver greater power so care must be taken not to break small-diameter drill bits under repeated loads. Most models allow you to turn the hammer function off, so you can use them for the same tasks as cordless drills – but bear in mind they will be heavier and may require two hands to operate.
Buy a drill that comes with a warranty as this indicates a certain level of quality and reassurance that your model will stand the test of time. Ace Hardware in the UAE usually offer this for 1 year.
Black and Decker, Dewalt & Bosch basic ranges are recommended in this category
AED 179 – 350
ADVANCED jobs. Drilling concrete and other tasks usually undertaken by professionals.
An SDS drill is built to last while performing high volumes of work. They often come with high-powered motors that can keep up with heavy usage on construction and building works. The extra power and heavy-duty hammer action is useful for larger masonry drill bits, for use with expansion bolts for hanging heavier items like TV brackets & large mirrors.
700+ watts
Keyed SDS Chuck
60 Nm torque
18-40 volts
An SDS drill is the model of choice for professional-grade tasks. A cordless drill is never ideal for use on a hard wall as the hammer action uses a lot of power and would require frequent recharging that quickly becomes inconvenient.
If an SDS drill offers power in the region of 500 watts it is useless as it will quickly get jammed. People buy these kinds of drills because they prefer the lower price point and don't have the technical knowledge to foresee that it will cause problems. Go for 700 watts as a minimum.
Hitachi (high range only) and Milwaukee are both excellent choices at the higher end.
AED 600+ for preferred brands
Cordless drills: select for ultimate flexibility
Skill level
Specifications
We Will Fix It recommendations
Guide price
BASIC jobs. Assembling simple furniture, drilling plasterboard, wood (30 mm) or steel (13 mm).
1.5 to 2 Ah
1600 RPM
10mm keyless chuck
35 Nm torque
12 volts
If you're simply looking to drive screws into the wall get a lightweight cordless drill with no hammer action.
Cordless drills are more flexible (you don't need to stay near a plug socket) but don't usually have as much power as a corded drill if doing a lot of hammer action work into tough walls.
When selecting battery-powered drills stick to decent basic brands like Black & Decker, Skill or Bosch (green range for non-professionals)
The cheapest solid battery drill on the market is in the region of AED 159 for a 10mm chuck.
ADVANCED jobs. Assembling larger furniture and decking, drilling plasterboard, wood (35 mm), steel (13+ mm) and concrete (15 mm).
2 to 3 Ah
1600 to 2000 RPM
10mm- 13mm keyless chuck
50 Nm torque
18+ volts
For intermediate tasks or to ensure general value for money it is better to upgrade to a 13mm chuck that will cover almost all your household requirements.
You need a decent voltage behind the battery model or it will be difficult to use. Go for 18 volts with a lithium ion battery that will last longer.
Don't buy multi-sets that share a battery as these will require you to to keep swapping batteries if using multiple tools on a project. E.g. saws, impact drivers etc. This will result in you running out of batteries and taking longer to complete the project.
AED 235 – 850
Glossary
| | |
| --- | --- |
| Ah | An ampere hour (Ah or amp hour) is the amount of energy charge in a battery that will allow one ampere of current to flow for one hour. An ampere is a unit of measure of the rate of electron flow or current in an electrical conductor. |
| R.P.M. | Revolutions Per Minute. Drilling RPM is determined by the material's cutting speed as well as the drill bit's size. When drilling into a harder material the general practice is to reduce speed. |
| Chuck | Drill chucks are devices used to hold the drill on a spindle. They are available in keyed, keyless or hybrid systems, allowing for quick changes of a drill bit. Keyed chucks are engineered to either loosen or tighten the hold on your drill by using a key. |
| Nm | Torque, measured in Newton Metres (Nm), is the force that causes an object to rotate and is the best gauge to see how powerful your drill or impact driver is. The higher the number in newton metres the more 'twisting' force it will deliver. |
| Volts | High voltage in a power tool translates to higher torque. Torque makes it easier for you to use greater force without putting as much strain on the battery. When you're using a power tool that needs plenty of torque, you'll need a higher voltage to get the job done. |
| Watts | A higher wattage is better for drilling masonry. While a lower wattage will suffice for plasterboard. For most basic home DIY jobs, a 550 watt drill is adequate. |
FAQs
Do I need to own a drill?
Approximately 80% of people are actually using their drill for driving screws quickly and with ease – for example when putting together flat-pack furniture. In this case, a basic model will suffice. At the point where drilling is required, for example in the pursuit of putting up a shelf, most people decide they would prefer to recruit the expertise of a maintenance company. In which case investing in a drill is not required.
Do I need to own both a corded and a cordless?
Yes, if you are a keen DIYer. If you are only using your drill on the odd occasion, then go for a cordless in a slightly higher spec as recommended in the table above.
What should my drill come with?
Make sure it comes with a battery or buy one separately. A warranty is also recommended, see above.
WHAT ARE THE
BEST DRILL BITS FOR HOME MAINTENANCE
AS A NON-PROFESSIONAL?
This depends entirely on the type of DIY job you want to do. Bear in mind that drill bits break so if you plan to do a lot of repetition, having multiples is worthwhile. Buy a multipack of the following at a sensible price point – don't buy cheap.
Wood drill bits
Steel drill bits

Masonry drill bits (6mm is recommended as the most frequently used size for putting up

photos

and anything lightweight onto a wall)
Do I need to spend a fortune?
There are not as many bad quality drills on the market these days as design mechanics have improved over time at a lower price point. Many well-known brands now produce their basic-grade drills in China, and these are entirely fit-for-purpose. See above for guide prices.
Is it worth paying for added extras?
If your drill comes with an illuminating light feature this can be very useful, as it helps you to see and drill accurately. Laser cross-hatches for leveling are a bit of a gimmick, on the other hand.
How long will my drill last?
For non-professional usage (ie not every day) a standard model would typically last between 5-10 years.
Need more information? Listen to this We Will Fix It Podcast that is all about selecting a drill in Dubai.
Does the thought of drilling fill you with dread? Fill the form below and we will get back to you very shortly to discuss your requirements, big or small.