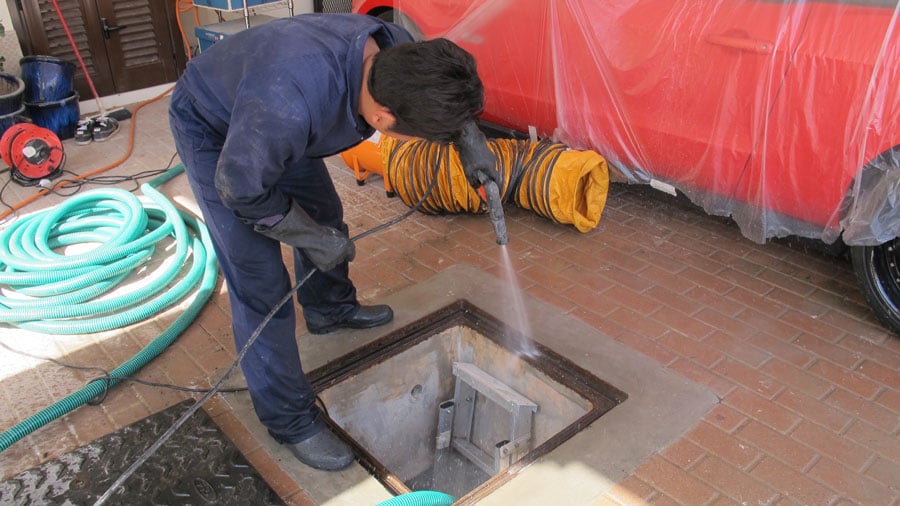 5 reasons to clean your water tank
16 Feb
Did you know that Dubai Municipality guidelines recommend cleaning your water tank at least once a year?
Unlike many countries which have the benefit of clean water direct to tap, Dubai residents receive their water through a tank and pump system. This makes the residents of Dubai even more susceptible to water tank contamination as these water tanks, if not maintained or sealed properly risk exposure to a host of contaminants. It is therefore quite surprising that most of us pay very little attention to the condition of our water tanks, the main reservoir that stores all our water.
Why water tank cleaning is important
Here are 5 reasons you should schedule a water tank cleaning session as soon as possible:
Unclean water tanks act as breeding ground for bacteria


They can act as a breeding ground for all kinds of bacteria, making your water tank's environment susceptible to being contaminated. Moreover, dirt, mould and silt deposits tend to accumulate in your water tank, making the water unfit not only for consumption, but also for daily use.

Contaminated water can lead to water-borne diseases


Contaminated water can lead to illnesses such as diarrhea, cholera, typhoid and lead poisoning. The simple act of cleaning your water tank may assist in protecting your family from such water-borne diseases.

Water tanks can accumulate rust over time


If you notice that the water running out of your taps has a brownish tinge, your water tank may have accumulated rust and you need to get it checked. Your water tank is also at risk of having pathogenic micro-organisms that may have gained access to your tank through a host. These hosts generally include insects, rodents and other aquatic organisms that may have entered your water tank due to insufficient covering.

Water filtration process may not be effective if your tank is not clean


'"I use a water filter and hence face no risk of facing water-related ailments" is a classic misconception that needs to change. Even the best of filters might not be able to protect you, if the source at which your water is stored is contaminated.

Helps reduce maintenance cost


'Maintenance is always better than cure' is a common guideline in the handbook of any home-maintenance solutions provider and is a notion we strongly believe should apply to everyone who owns a water tank. If disease is not a good enough incentive to convince you to clean your water tankwe are hoping that the principles of economics will. Periodic maintenance of your water tank is much more cost-effective than expensive last-minute repair work. Regular upkeep of your water tank ensures that your water tank provides you with clean water at all times and is functioning at optimum levels. 

Now that we've discussed why water tank cleaning is important, it is important to consider how to clean a water tank efficiently. Finding the right water tank cleaning service near you is important to ensure that your water supply is always pure, and that your health is always protected. Make sure that you select certified Dubai Municipality accredited water tank cleaning and disinfection technicians. Also check what products are being used. The highest standard technicians are using eco-friendly solutions/disinfectants that are safe for your family. Finally, make sure they include replacement of foot and float valves in the job, as these are essential to ensuring the water pump system operates effectively. With the right maintenance, you'll have clean, safe water all year round.
Finally, how often should you clean a water tank? We suggest that if your water tank hasn't been cleaned for 6 months or more, consider scheduling a cleaning soon.