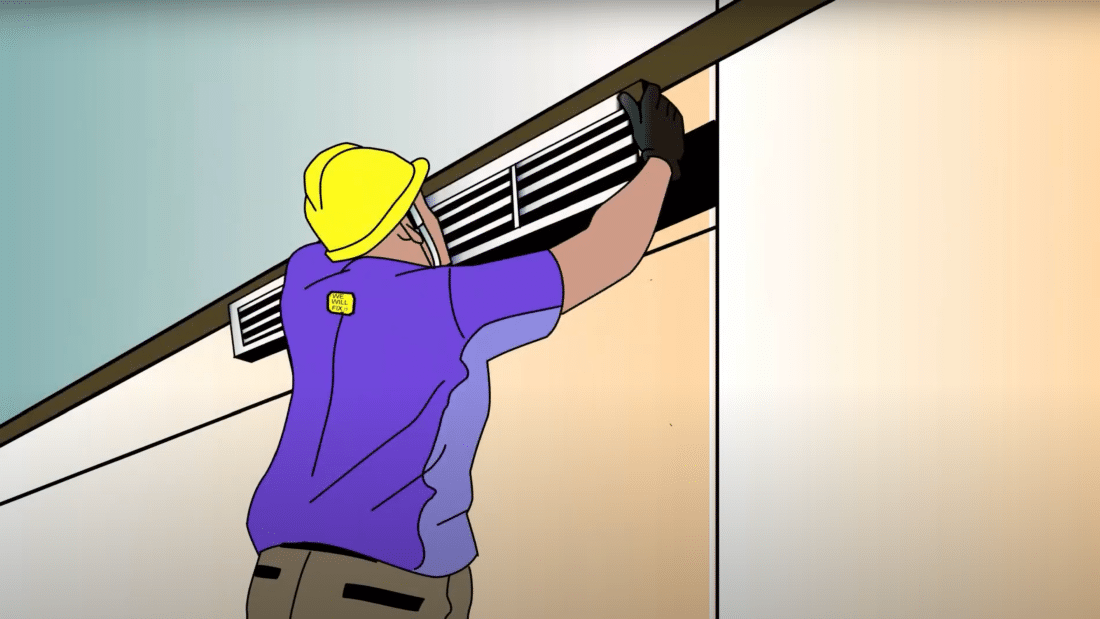 How Often Should You Schedule AC Duct Cleaning?
20 Jul
When it comes to the frequency of cleaning your ducts, a quick sense check online can leave you not much the wiser. Search results recommend duct cleaning as regularly as every couple of months and as infrequently as once every five years – depending on the source of information.
At We Will Fix It, 14 years of experience operating in Dubai has given us the confidence to recommend carrying out duct cleaning every 12 to 18 months due to the intense UAE climate and heavy reliance on AC for much of the year. Duct cleaning is required more frequently in the Middle East because residents spend the majority of their time indoors where pollutants in the air can be up to 3-5 times higher than outdoors. It is worth noting that the cleaning should also be carried out whenever you are worried about air quality, particularly when moving into a new property.
Benefits of annual duct cleaning
1. Cleaner air and less house dust.
It is difficult to fully comprehend the benefits until you have personally experienced the after-effects of a professional duct clean. But consider how much time and money you spend trying to keep your home ship-shape – often without a thought for your unseen internal ducts that end up storing remnants of the airborne contaminants that have been removed by your AC, including bacteria, fungus, mould, and organic matter such as pet hair. When these build up within your ductwork naturally over time, your air becomes congested and you will find yourself having to work harder to keep surfaces clean.
2. Minimises the effects of allergies.
Over and above the need for extra dusting, it is quite common for family members to experience a physical response to less-than-clean air in the form of aggravated allergies and respiratory issues. If sneezing, coughing, wheezing or itching become prevalent, cleaner ducts will help to remove many of the most common allergens from within your ductwork (commonly referred to in the industry as the 'lungs' of your home).
For full air purification, it is worth noting that your ducts work in conjunction with your coil and AC system, so these components may also require attention in order to completely eradicate allergens and irritants from the vicinity. That said, a professional duct clean will certainly remove much of the dirt that is lingering in close proximity, thereby reducing those unpleasant tell-tale symptoms that can often lead to bigger health problems when left unchecked.
3. Helps to get rid of bad smells.
Unidentified odours always have a source, and if your ducts are clogged with debris, the chances are that they are incubating bacteria that your nose can't ignore. From innocuous but undesirable mildew to leaks and bacteria, your lingering whiffs could be caused by a number of issues – all of which can be resolved with a thorough 2-step Rotobrush® and vacuum that is widely regarded as the leading duct cleaner available in the market.
Benefits of a duct clean with We Will Fix It
Deep cleaning:

A fully trained technician using expert tools should take about 1 to 2 hours to complete one duct unit. (If you are unsure how many you have, your units are equal to the number of thermostats in your home.) We Will Fix It quotes for work based on this thorough process because professional duct cleaning is a specialised task designed to maintain the health and hygiene levels of your home. Beware of companies that complete the clean in less time, especially if they are offering heavy discounts.

Modern systems:

Combined with a standard fogging machine that releases antifungal disinfectant into each AC duct branch separately, We Will Fix It uses the market leading Rotobrush® system that features an accelerated spin cycle and 90% increase in vacuum power. This suctions dirt in one simple, stress-free, mess-free procedure – without the need for precarious (and old-fashioned) removal of your ducts.

Cost-efficient pricing.

We Will Fix It does not bundle your duct cleaning service together with your AC service, as it is uncommon for these separate systems to require maintenance at the same time. If you have any concerns around your AC's general efficiency, give us a call. We only ever quote for work that genuinely needs doing, and if we can see that duct and/or coil cleaning is required in your home for the benefit of your AC's overall efficiency, we will notify you and give you the option to utilise these services at your own discretion.
If it sounds like your home would benefit from a professional AC duct cleaning service, we'll be happy to discuss your needs with you and give you a quote. All you have to do is share a few details with us.
GET AN ESTIMATE